"From branding to design to back-end coding, Simple Solutions guides us expertly every step of the way. I cannot recommend them highly enough."
– Daniel Stern (Founder, CollegeEssayOrganizer.com)
Innovative websites today can present a wide range of high-tech functions and a myriad of Web applications. Adding advanced functionalities to your website can make it far more useful, dynamic, and inspiring for visitors. This can considerably increase leads and sales. Whether your website needs a new mobile application, internal site search, store locator, gift finder, custom database application, a Facebook game app built around your products, a complete learning center, or any other custom application, we can build a simple solution for you.
Our application designers have consulted with many clients on an expansive variety of custom applications. In close communication with our clients, we advise on application execution, develop and construct user interfaces, implement, and assess application usability. Our dedicated team of application designers and programmers construct and integrate world-class applications at competitive prices. Our diverse collection of applications has included:
Mobile Application Development
Learning Centers
Store Locators
Facebook Application Development
PHP, .NET, JSP & More Applications
Rich Media Applications
Widget / Gadget Development
E-commerce Based Game Development
CMS Component/Plugin/Extension Development
Algorithm-Based Applications
Site Search
Calendar of Events
Polls & Surveys
High-Security Internal Applications
Custom Database Applications
Example / College Essay Organizer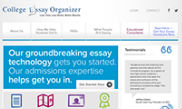 CollegeEssayOrganizer.com is a suite of innovative online college application essay writing tools and integrated applications such as Essay Questions and Essay RoadMap. The RoadMap was built around a complex algorithm that pieces together multiple data relationships with user data to automate and streamline the college and university essay writing and application process. We work with business stake holders to constantly improve the front and back end system via new and improved features and functionalities.