"They make complex projects straightforward and have provided a wide range of services from web development to SEO."
– Edward Smallwood (Executive Vice President, A-List Education)
We provide a wide range of advanced web development solutions for small businesses, mid-sized companies and global organizations. Whether you need a basic website, customized applications or a robust e-commerce platform built, our dedicated team of professional programmers, designers and optimizers deliver affordable world-class technology. Our greatest strength is our ability to work in cooperation with site owners as we develop attractive, user-friendly and technically advanced websites. We take pride in our ability to work side-by-side with in-house IT teams within existing complex platforms, and in some cases, find quick-to-production Web solutions that sidestep business restrictions or technical obstacles. We value the people we work for as we listen to our clients' needs, focus on their values and consistently provide the best ROI and customer service possible. Our development department offers:
Web Design & Upgrades
E-commerce Development
HTML5 Development
Social Media Integration
Search Engine Integration
Content Management Systems
Custom Programming
Customer Relationship Management (CRM) Systems
Enterprise Resource Planning (ERP) Systems
Other Systems Integrations
Example / A-List Education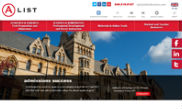 Simple Solutions has designed, developed and optimized A-List Education from the ground up, complete with a practice test registration system, customized and co-branded online bookstore, seamless blog and social media integration, custom inquiry forms, and much more. We work with business stake holders to constantly improve the front and back end system via new and improved features and functionalities.