"We have found the team at Simple Solutions has played an important role in making that first impression a positive one."
– Patrick Murray (General Service Manager, Yankee Ford)
Marketing through social media can be a powerful way to grow most any online business, but only when managed effectively. Using social media strategically can help you generate more leads, promote your products or services, improve customer relations, develop loyal fans, and put a personal face on your company. Our Search Marketing team at Simple Solutions has broad experience in guiding effective social media programs for a wide variety of websites ranging from basic promotional sites to corporate ecommerce enterprises.
Our dedicated team can help you effectively integrate social media campaigns into your overall Web presence. We focus our social media efforts on increasing traffic to your website, increasing leads, improving sales, and positively impacting your search engine rankings.  We offer experienced direction in launching and maintaining a social media presence that will actively engage your users and expand your Internet visibility and authority. Simple Solutions will help you combine promotional marketing efforts with personal connections through social media to boost Internet sales and your company's online prominence.
Example / Orvis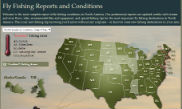 The Orvis Fishing Report application is social media at its best. Simple Solutions works closely with in-house teams to help develop and maintain the most effective and efficient technology and people processes. These reports are ultimately consumed by tens of thousands of social media users and consistent social media practices are required by the hundreds of people involved on the back-end to help deliver timely and quality information.