"​Simple Solutions has absolutely helped us improve our business and keep it moving forward to that end."
– ​Tim and Joanne Linehan, ​Owners of Linehan Outfitting Company
The first impression of your business on a new customer is often through your website. And we humans are visual creatures. So, your website's presence can either dampen interest or inspire ongoing customer relationships with every visit. With this in mind, Simple Solutions' artistic design team thoughtfully considers every design element and how they impact site user experience. In designing a new website for you or modifying your existing site, we work as closely with you as you prefer. We have a broad portfolio of website designs that are professional, attractive and user-friendly; and are designed optimally to rank well in search engines.
Our design team incorporates cutting-edge design features as our clients routinely rely on us to design and upgrade their websites, logos, applications, and landing pages. In addition to Internet website design, we offer a full suite of off-line digital assets including brochures, posters, business cards, trade show booth signage, and more. Our dedicated design team delivers beginning-to-end design solutions at very competitive prices. We transform your Internet presence and your off-line marketing messages into visually stunning assets that turn newcomers into admirers.
Website Design
​Brochures/Rack Cards
Business Cards
Logo Development
Advertising Campaigns
Trade Show Booths
Example –
Yankee Ford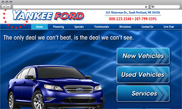 In addition to designing, developing and managing the yankeeford.com web presence, Simple Solutions uses its design skills to help Yankee Ford deliver better and more cost effect direct and email marketing material. Since many marketing messages and initiatives start on the website, we are able to quickly and effectively deliver consistent design solutions for many of Yankee Ford's other marketing channels.