"Their work is remarkable. We have seen and continue to see a very strong ROI from their SEO work."
– John d'Arbeloff (President, RailRiders Adventure Clothing)
There are only three ways for people to get to your website: directly typing your domain name into a browser, clicking on links from other websites, or finding your site through search engines. Over half of all website traffic comes from search engines, through natural or paid search, according to a 2013 study by Conductor. So if you're not getting the volume of traffic that you hope for, your search marketing strategy probably needs professional direction.
To increase your website traffic in this era of search engine dominance, it is crucial that your search marketing plan is more advanced than your competitors' plans. Your site needs to become a trusted source of quality content with user-friendly pages that are relevant to what people search for. Understanding what qualifies as a trusted source, quality content, useful pages, and search relevance comes with extensive analysis and experience.
Our dedicated team of search marketers delivers world-class search engine development, strategy, and implementation at competitive prices. Our greatest strength is our ability to understand the technology and connect with people. We carefully listen to your needs, focus on your business' core values, and we consistently provide the best return on investment and customer service possible. We offer:
Organic/Natural Search Engine Optimization
Pay Per Click Setup & Management
Web Strategy Consulting
Research & Advisement
Blog Design & Integration
Social Media Marketing
Example / The Golf Warehouse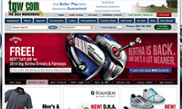 Simple Solutions works closely with the in-house teams of golf's #1 online superstore, TGW.com, to better optimize thousands of products by targeting keywords and phrases for optimal search engine performance and conversion. In addition to search engine optimization tasks, Simple Solutions also helps with special development projects, social media marketing, link building, research and custom reporting.